Farewell 2016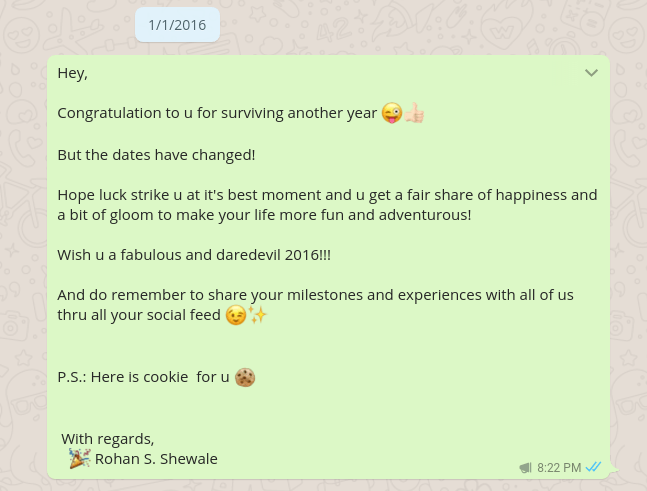 This was the new year message for 2016, seems it hit pretty much myself, leaving all the global happenings and deaths, there were still quite noticeable sad points, from frequently watching my friends bust into tears or put a botox smile, or suddenly lost to deep thought, while their closed ones had passed away or themselves having a terrible love life, wish I could support them more, rather every scenarios left me in super tension of how to react without jeopardizing the relation(I might be exaggerating), being an introvert for most my life didn't help in such situations, it's just so easy in all those psychological books that so easily skeuomorphic the situation but somehow didn't included a 'danger: emotion!' section on them. Though I can't control my emotions while watching anime, or a tv series or a movie, or reading a book, or even a manga, I am quite blunt in real world reactions.
There was a quite a fluctuation in my decisions for the future too,
Suddenly MEXT eligibility increased, leaving me even trying for scholarship in further studies in Japan.
Canceling to join the MNC in which I was campus placed, in favor of pursuing M Tech.
Not joining NIT Patna's pg program because it was 5 yrs straight, (all those regional rants from other :P )
Not joining COEP's pg program because… (well let's just say I can do better, so why settle).
Refusing to job offers from few startup in South India because my dad didn't wanted me to leave the state.
Hmm… now it seems that there are many things I didn't "do" this year.
Of course there were positive exciting points too, I would like to mention a few –
Learned from some of the best professionals while at CDAC, (and making some good friends too).
Went to a lot of parties with the CDAC group.
[shout out: Pranali Jambulkar]
Working as intern and learning, with a wonderful team at web beta.
[shout out: Web Beta]
Trip to Bhopal, after all these years of my mom's desire to visit her sister we apparently made it, because the MNC I was placed in decided another screen round there.
Visit to Buddhist vihara at Sanchi, famous for its Great Stupa, one of the oldest stone structure in India – dating back to 3rd century BCE. It's so amazing that even after so much time the place brings out the feel of what the life would had been in past, every ruin has a story to tell.
Did a small project just of out curiosity — The Eat Kit, a simple processed fruit box subscription service planned for Ramadan month; which receive an amazing amount of response, we were so overwhelmed that we were strategizing full fledged service, though we dropped the idea since we didn't had time to continue it, but what was more exciting was to see similar service spin offs after we ended the whole thing.
[shout out: The Eat Kit Team – Chandrakant Mohadikar, Manish Sinha, Shubham Gupta, Swapnil Naik]
Returned to do freelancing, because just learning and not applying the knowledge in real word is not satisfying.
Digital marketing virtual intern from nearbuy, though I decided to skip last two activities and not ask people to write review for their app.
Started group learning and exploring, to continue development further with few of my friends.
[shout out: thanks to Akshay Bhagat for suggesting this]
What I plan for the future (basically for digital presence and this blog)
Most !important : rework the main site and remove that annoying under development tag.
Transfer this blog to static one, like Jekyll, with a minimalist theme, since there isn't much need of WordPress for this.
Share my code, tips and tricks, and also some nice ones found on stack-overflow and around the web.
Put my mini projects and portfolio online.
And of course, try to be more social, increase the curvature of my learning sphear and share with everyone even more.
So, Happy New Year!