WordCamp Nagpur - Wordpress Conference Nagpur 2017
Last week I together with my friends and team members - Akshay, Manish & Swapnil got the opportunity to attend WordCamp Nagpur – A Wordpress Conference in Nagpur itself, (first WordCamp in Nagpur), organized at Chitnavis Center, Nagpur, Maharashtra, India.
The event stretched weekend on 24th and 25th June 2017.
Talks
Although being the first, the organizing team which is an active Wordpress usergroup from sometime now, planned two tracks
User track : for people developing on WordPress (Bloggers, Podcasters, Marketers, Website Owners, Ecommerce Stores etc)
Developer track : for people developing in WordPress(Website Developers, Designers, and various Consultants)
The day started with a bit of commotion, as many attendees didn't RSVP at WPNagpur's meetup group, but the organizing team quickly arranged palatial conference halls, made the sessions completely open to every attendee (making it possible for anyone to hop between session in different tracks), and even repeated the first talk in developers track.
There were numerous sessions, many of them interesting ones, each of them outright informative, the complete list is here, but here are the we attended —
Branding & Swag
The community didn't left this part out, branding in Nagpurian way was something to amazed, being a Nagpurkari myself; Nagpur's special Tarri Poha, words like mama, bawa, mahol, hao, etc., (which are common slags in Nagpur), the unbalance mix of Nagpuri Hindi-Marathi, and much more, made it's way to standee, Wapuu (WP's official character), networking area, lunch boxes, and all over the place.
[ add swag pics here ]
Panel Discussion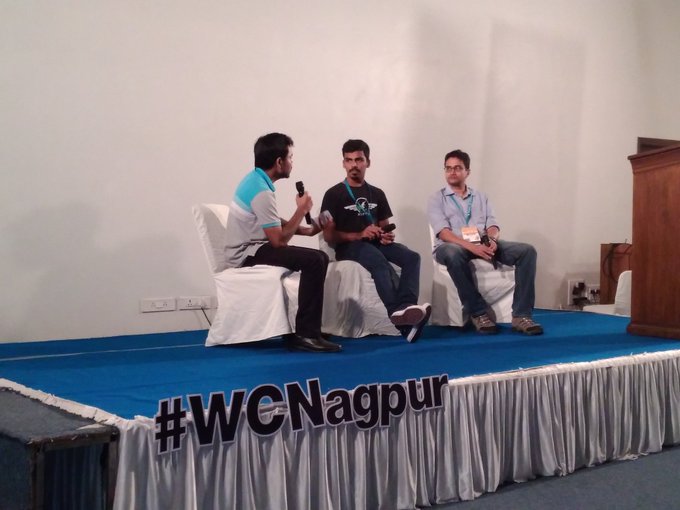 At the end of second day, the conference came to closure with open panel discussion, (which was likly off-topic discussion in a tech conference), focusing on 'Making Money with WordPress Website', one of the reason being this was schedule in user track and the community wanted to give potential WordPress beginners a reason to be motivated.
---
---
Important Links